Jeromy & Renee Landress, Owners and Operators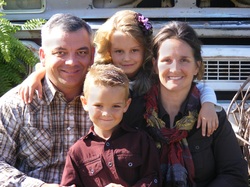 Highway 76 Sales, LLC is a family owned and operated business that has been established since 2005. Jeromy comes with over 25 years experience in the construction industry; specializing in residential custom homes, custom cabinetry, remodeling, industrial/commercial/residential concrete, pole barn building and excavation services. He is a third generation concrete contractor that has worked with companies such as Joe Moore with Sonic Corporation, Howard Construction, Craig Mettry with Mettry's Clothing Store, Hardees, Joe Dooling of Dooling Industries, Kelly Stark of The Jeweler and Pawn, Landmark Banks, Mike Self with Self Equipment, Dustin Mahorney with DDB Unlimited of Pauls Valley and a list of other reputable companies.

Jeromy and Renee Landress made their home in Blanchard, OK in 2012 and moved their construction and storage solution business to this community.

Highway 76 Sales, LLC is constantly expanding its sales locations. We currently have three corporate owned locations: 1) Highway 76 South between Blanchard and Dibble; 2) in Purcell, across the street from Ruby's Restaurant and also 3) in Pauls Valley, in the same parking lot as Z's Bar. We have several dealers spanning the south central part of Oklahoma. If you would like to become a dealer for Highway 76 Sales LLC, please contact us at 405-344-SHED (7433). We are looking to expand in the central Oklahoma area and eastward along the I-40 corridor. Give us a call and let us explore the options available through this exciting opportunity.

Highway 76 Sales LLC has an effective blend of technical skills, industry knowledge, and the drive to be innovators in our field. We have a heart-felt desire to provide the superior service that delights and satisfies our customers. We recognize that how we conduct our business matters. Why not call us today and join your friends and neighbors to see just how easy it is to purchase one of the many affordable products we have to offer. We are one of the industry's leaders in portable buildings. We are the largest pole barn dealer for Bradford Buildings and the largest carport dealer for Integrity Carports.

We surpass our competition with the quality of our products and the service provided to each and every customer. We believe our customer is our best form of advertisement and know that you will tell your friends, family and neighbors about your experience. We want repeat customers! We know you expect to receive the best service in this industry and to be fully satisfied with your purchase.

We value our family time and make it a priority but if you are serious about one of our products, we will be glad to meet you after hours and assist you with your purchase. We want your next purchase to be at Highway 76 Sales, LLC. Feel free to drop by any of our sales locations anytime because all of our demo's are open. Check out the high quality craftsmanship and design of our structures and you will see we far exceed the competition.

In addition to the service you will receive from Highway 76 Sales, LLC, we also have a Lease Purchase program. What's better than having your own "mini-storage unit" in your backyard and at the end of the term, the building belongs to you? We offer easy financing terms with NO credit check on some of our products.
---

Please see our Holiday Hours as follows:
CLOSED Thursday, November 26 (all offices)
CLOSED Friday, November 27 (all offices)
CLOSED Thursday, December 24 (all offices)
(The Purcell office will be CLOSED Dec 21-25; please contact Blanchard or Paul's Valley offices during this time)
CLOSED Friday, December 25 (all offices)
CLOSED Friday, January 1, 2016 (all offices)

We accept All Major Credit Cards!
"Like" Us on Facebook